Scalability Gap – Over the years I have seen a tragic pattern of small businesses that start to grow then encounter a cash crisis and either fail or slide back to their previous size. It goes something like this:
The business begins to experience sales growth, but this growth begins to overwhelm the owner – it brings the whirlwind. To much work, to few hours, balls start to drop, etc. To solve this whirlwind the owner begins to spend money to solve the problem. The bulk of this spending is in hiring. That's when the business hits the scalability gap. The problem is that the growing business becomes unwieldy and inefficient and expenses rise faster than sales creating a cash crisis.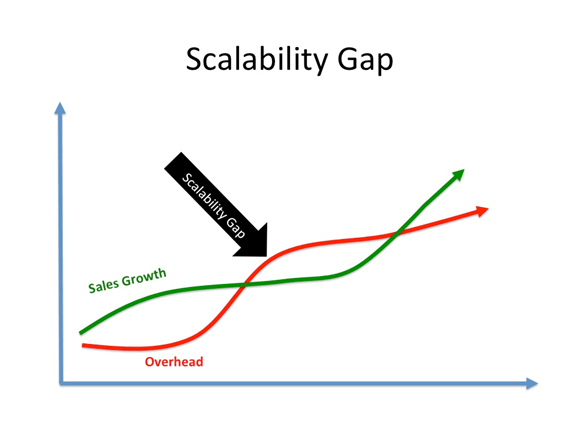 The owner wakes up one day and says, "hey wait a second I was making more money (bottom line) before we grew," or worse the owner wakes up to insolvency. This problem seems to be exaggerated in business models that are inventory and/or HR intensive. Cash management, working capital reserves and the skills to build systems and people are what it takes to get through the Scalability Gap. In Business Kung Fu you will learn the enterprise competence that will help you get through the scalability gap.